Reseller Web Hosting
---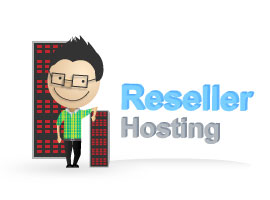 Getting started in the web hosting business is now even easier and even more affordable.

All you need to run a reseller web hosting account is minimal computer knowledge and a little initiative. That's as we'll maintain the servers and their hardware, software, data connection, and backup power supplies - leaving you to concentrate 100% on sales and marketing.. Now, you can have a solid, cost-effective foundation on which to build your very own web hosting company - without any of the high costs associated with renting and managing your own dedicated servers.

If you are :
Web Designers who provide complete solutions for their customers.
IT-related business providers who wish to diversify their business into web hosting services.
Freelancers who have a good networking and wish to increase their monthly income.
Then our reseller hosting solution is what you are looking for!


Reseller One
From $50 per month
Reseller Two
From $100 per month
Reseller Three
From $150 per month
Package Feature
Disk Space
Monthly Traffic
Fantastico
RV SiteBuilder
Control Panel
Domain Reseller Account
Server Location
10 GB
100 GB per month
WHM / Cpanel
FREE
Singapore (M1)
20 GB
200 GB per month
WHM / Cpanel
FREE
Singapore (M1)
30 GB
300 GB per month
WHM / Cpanel
FREE
Singapore (M1)
Hostable Domains
Subdomains
FTP Accounts
Email Mailboxes

POP3 / IMAP / SMTP
Webmail Support
Email Aliases
Email Forwarding
Auto-Responder
Spam Blocker
Anti-Virus Scanner
Mailing List
Web Base File Manager
Password Protect Directories
IP Deny Manager
Hotlink Protection
Custom Error Pages
Redirect URL
Online Flash Tutorial
Online Knowledgebase
24 x 7 Email Support
24 x 7 Server Monitoring
1 Month
3 Months
6 Months
12 Months
$80.00
$220.00
$440.00
$880.00
$160.00
$440.00
$880.00
$1760.00
$240.00
$660.00
$1320.00
$2640.00
---
---
Backup Retrieval
Additional 1GB Storage Space
Dedicated IP Address
SSL Certificate
SSL Certificate Installation
S$ 15.00 per task
S$ 10.00 / month
S$ 120.00 / year
S$ 175.00 / year
S$ 50.00 One time
S$ 15.00 per task
S$ 10.00 / month
S$ 120.00 / year
S$ 175.00 / year
S$ 50.00 One time
S$ 15.00 per task
S$ 10.00 / month
S$ 120.00 / year
S$ 175.00 / year
S$ 50.00 One time